Welcome to the Cal-IPGCA Association Website!
We are partnering with the California-based nonprofit One World Institute (One World Innovation Academy), incorporated in 2015, to deploy the innovative outcomes of the Cal-IPGCA State Agency Collaboration Network (SACNet) to develop a people-, process-, and technology-centered approach to bridging communities and activities to solve society's most complex problems. We believe that the world is one system and that we are all interconnected. We believe that when we connect our purpose to our work and the world, we can create a more just and sustainable future. We call this a "WholeOCRACY!"
---
Each of us is the Nexus connecting who we are in the world around us. Our networks of organizations and communities evolve as people evolve. Collective diversity and equity is our strength as the whole is greater than the sum of its parts. Agility is our nimbleness to challenge, build, transform, thrive, and innovate in the real-time world!

The KollaborNation Partnership's governance document is a co-created "Declaration of Interdependence." This living document will be collaboratively amended to ensure that we can always respond to the world's challenges and opportunities at the pace of change. Each new partnership developed under the KollaborNation Partnership will begin with a Declaration of Interdependence, in which the new partners collectively outline how they will work together.
---
Imagine a world where everyone unleashes their innovative capacity to create a better future for everyone!
Are you ready to break free from the status quo to unleash your innovative potential?

Are you ready to break free from the status quo to unleash your innovative potential and join a global movement of changemakers dedicated to transforming our world through real-time innovation training, dynamic partnerships, and inspiring K-Casts (podcasts?
Together, we can:
Connect purpose to work, creating an unlimited world for everyone

Unleash individual and collective innovative capacity

Build a better future for all
Our Approach:
WholeOCRACY: One People, One Government, One System, One World

Innovation Partnerships and Prototypes

Declaration of Interdependence

Values-Driven Leadership

Human-Centric Focus

Geographic Influence and Expansion
Who We Train:
Individuals seeking to grow their innovative capacity

Leaders aspiring to drive change

Organizations navigating the pace of change

Teams seeking engagement and creativity

Community advocates
Benefits:
Become an agile, adaptable, and innovative leader who can thrive in any environment.

Foster creative and engaged communities that drive results.

Achieve exponential growth and results, individually, organizationally, and in the community.
Make a positive impact on the world by connecting your passion to your work and living an engaged life that serves you and the greater good.
Join the Movement - Call to Action - Register Now:
November 30: Co-create OWIA's Declaration of Independence:  A Declaration of Interdependence outlines our agreement to work together to achieve our individual and group goals while supporting each other's success.  This Declaration will serve as a North Star for your work and life. 
January 4, 2024: KollaborNate and Innovate for a Better World:  In this workshop, you will learn how to identify your unique superpowers and put them to work! You will collaborate with others from diverse backgrounds of interests to create a KollaborNation Network that will serve you individually, and collectively.  We will "build upon" co-creating a Declaration of Interdependence first taught in our November 30, 2023 workshop.  
Want to Learn More?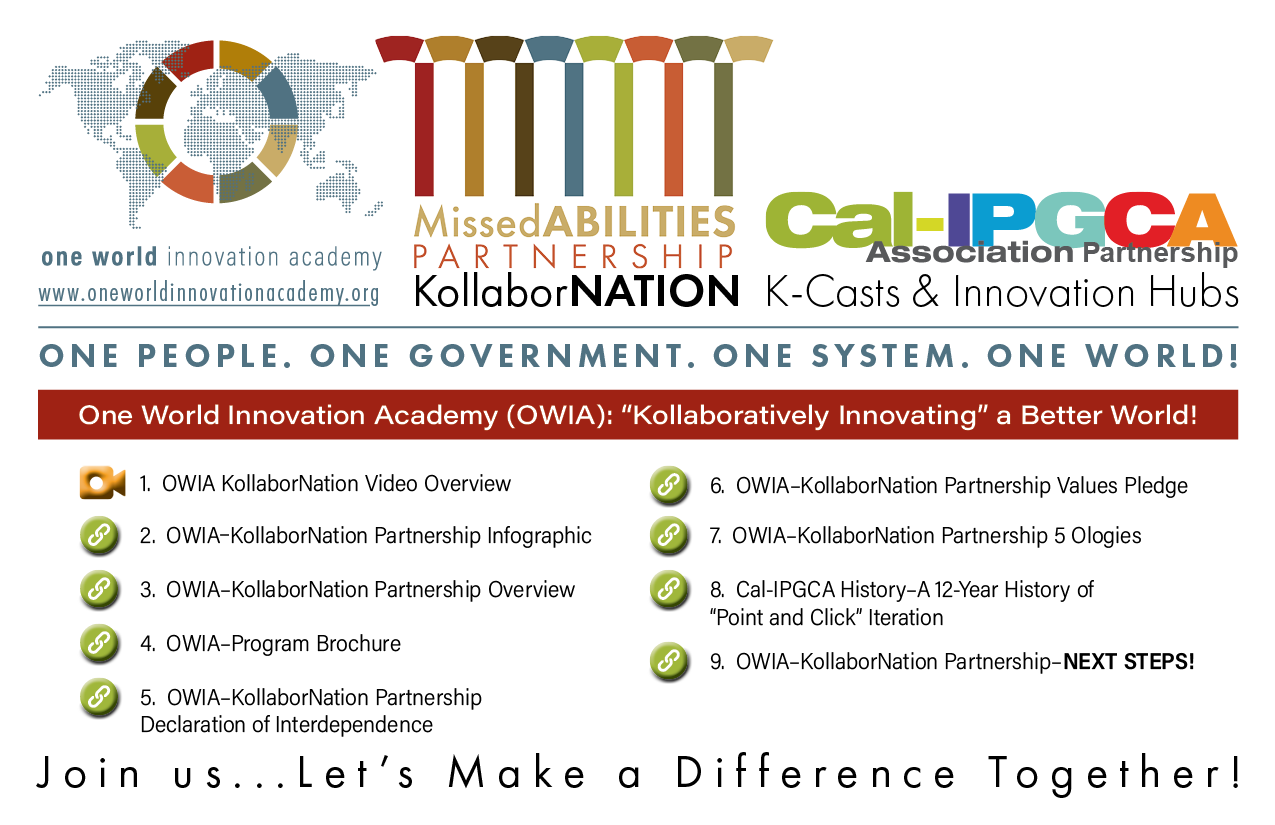 Cal-IPGCA Association Partnership - What is your DONATION supporting?
As an integral partner in the OWIA KollaborNation Partnership, the Cal-IPGCA Association is proud to take a lead role in supporting the MissedABILITIES Partnership.

OWIA's foremost Innovation Prototype is our MissedABILITIES Partnerships, where we unite people, cultures, and governments to better serve each individual and the greater collective community with a focus on creating services and jobs for the disabled, the homeless, and the reintegration of the previously incarcerated.
Larry Brecht, Chief Innovation Officer, OWIA: "As a legally blind man in charge of the MissedAbilities partnership, I am proud to say that we have a total of three divisions within MissedAbilities:
One division services people with disabilities, led by myself. Helping others is a North Star that the MissedABILITIES Partnership follows.
One division advocates for people experiencing homelessness, led by Trevor Carey, a highly functional homeless man.  Giving Hope is a lifeline to someone that is homeless.
One division advocates for the previously incarcerated, led by Dwayne Burgess, a recently paroled African-American man. Authentic truth and mending fences is a healing force that shifts the trajectories of lives.
All three of us are on a mission to pay it forward!"
What makes us different? All three of us have real-life experience with the challenges we face. This allows us to truly understand each future client at a very personal level and where they are in their journey.
Sacramento Regional Model
In Sacramento, OWIA is piloting a unique partnership with state government employees to serve the disabled, homeless, and previously incarcerated. As a prototype model, this hands-on program connects recipients to the services and resources they need to achieve their goals of reintegration, including employment and housing. OWIA's systems approach is serving as a Prototype for the state of California and the country.
A prototype is a working model of a product or service that is used to test its feasibility and functionality before it is launched to the public. OWIA uses prototypes to obtain essential feedback from all participating stakeholders before implementing new ideas into a broader society. This "micro systemic approach" saves resources while testing collaborative integrated systems.
OWIA prototypes create real-time micro models that can demonstrate the transformational macro impact they can create in leading government and people as one systemic system into our 21st-century economy. In this economy, change is constant, and the need to respond in real-time establishes a sustainable living system that can grow, morph, and change with the daily challenges that we collectively face as a society.
The organic flow from "independent to interdependent" allows each to grow in tandem, achieving greater and greater levels of quality outcomes and programmatic excellence. At the same time, this approach represents a paradigm shift for a hierarchical society.